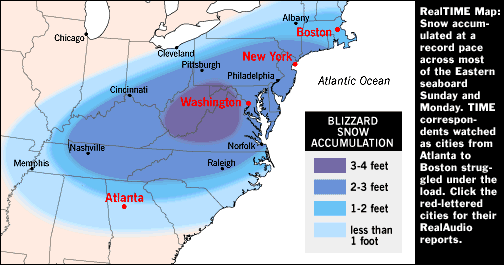 All Wet
East coast cities that had not even finished digging out from Sunday's blizzard are now being hit by another that's already a soaker. Although lacking the power of the earlier storm, today's dropped a dangerous mixture of freezing rain and snow that makes driving extremely difficult. "There are significant differences between the two storms," meteorologist Patrick Walshe of the National Weather Service tells TIME Daily. "The high pressure system was much weaker this time, which allowed warmer air to come up from the south. The other important factor was that this storm system hugged the coastline, allowing warm ocean air to come inland." Snow packed on the ground from the last storm actually made things warmer this time, Walshe adds, since the colder-than-normal ground temperature helped draw in air from a warmer system. The storm began in Georgia on Thursday night; by midmorning Friday snow was falling in a broad band stretching from the Carolinas to New England. But by afternoon, drizzle and sleet fell in Washington, Philadelphia and New York City. As it washed away mountains of snow, the new rain brought new problems of icy streets, once again making travel hazardous. Federal employees took another snow day in Washington, although William Rehnquist and Sandra Day O'Connor were the only two Supreme Court Justices to make it to work. In Philadelphia, schools were closed for a fifth consecutive day as new snow began falling on top of the record-breaking 30.7 inches the city got Sunday and Monday. But forecasters say the warmer temperatures have altered last week's potent recipe of wet air, a strong jet stream and an emerging storm.
<!img src="../../redrule.gif" width=504 height=3>
Monday: A Storm to Remember
For once, it was actually as bad as they promised. What began Sunday amid forecasters' dire warnings quickly overwhelmed the country from the Atlantic coast to western Kentucky, killing 83 people, piling drifts as high as 20 feet at New York airports and icing highways in an ill-prepared Atlanta. With up to 4 feet of snow already on the ground, snow continued to fall in a broad swath from eastern Tennessee to Massachusetts. "I've been following coastal storms since I was a kid," meteorologist Tom Moore of the National Weather Service told TIME Daily."I've never seen a coastal storm with such an expansive area of snow, and so much snow." After two new stormbursts expected Monday night, forecasters believe the deluge may continue for days. States of emergency have been declared in several eastern states, including Kentucky, Pennsylvania, West Virginia, Virginia, Maryland, New York, New Jersey and Delaware. Forecasters at many local TV stations seemed, to paraphrase E.B. White, almost to be rooting for the storm. "Local weather coverage has assumed tabloid proportions," TIME's Sam Allis reports from Boston, where television stations have promoted the storm and even recent, lesser bombardments "as if they are events of biblical proportions. One tunes into the eleven o'clock news to find scary, Siberian-like numbers written across a regional weather map. Only later do we find out that the minus forty-one registered in Worcester is, in fact, the wind-chill factor."
SNOWJACKED! If New Yorkers drank as one from the cup of human kindness during the surreal snowfall last weekend, now they're suffering the hangover. Case in point: as hundreds of car owners dug their vehicles from mountains of plowed-and-packed snow throughout the city's five boroughs Tuesday night, Robert DeJesus was relieved of his brand new snow blower at gunpoint. "I still can't get over it, and I've lived in New York City my whole life," DeJesus, a superintendent of a Bronx apartment building, told the New York Daily News. DeJesus and his 17-year-old nephew were trying to clear the front of his building when two armed men emerged from a brown van and announced that they were taking the machine. Said DeJesus: "The snow blower worked fantastic. Anything beats shoveling."
City by City:

BOSTON
In Boston, the snowfall neared the city's all-time record of 27 inches set in 1978. "The feared flooding along the coasts has not happened, and most people have stayed home, so the crews have been able to get through and plow most of the streets," reports TIME's Sam Allis.
NEW YORK
One million New York City schoolchildren had their first snow day since 1978, and the New York Stock Exchange reduced trading Monday to a mere three hours. In Central Park, where the snowfall was poised to break a record of 21 inches set in 1888, the city government supplied children with saucers to exploit Manhattan's few slopes. For-profit ventures were more common: "The neighborhood is at a complete standstill," New York bureau chief John Moody reports from nearby Bergen County, New Jersey. "The only things moving on the streets are snowplows or the cars of people with enough foresight to buy 4-wheel drives. The streets are also full of teenage boys with snowblowers offering to clear out your driveway at $50 a pop."
WASHINGTON, D.C.
Monday was supposed to be the first day back on the job for furloughed federal employees, but the massive snowfall kept kept the three-week-old shutdown going another day. President Clinton kept budget negotiations going with Republican leaders inside the White House, but the Supreme Court set the mark when eight of the nine Justices showed up promptly for work. "People are out," reports TIME'S Brian Doyle. "They're walking and clearing the main streets. But nothing's going on. The government's closed. The big grocery stores are all open, so there's penty of food in the suburbs. The little ones that serve the District of Columbia are starting to run low, though, because trucks can't get through to them." ATLANTA
"Because the city is not used to the snow and not prepared for it, it has had an unusually large effect," reports Atlanta bureau chief Adam Cohen. "The local TV news is giving advice on what to do if the car starts to slide."
---
Back to Snuffy's